Department of Orthopaedics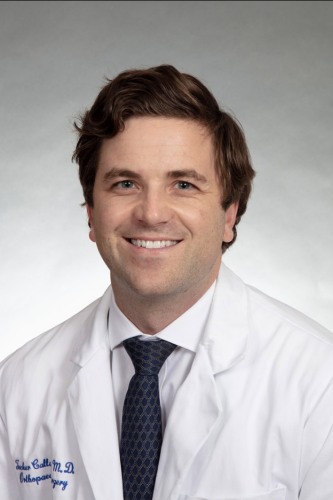 Hometown: Vicksburg, Michigan 
Undergraduate: Trinity College
 Medical School: New York Medical College
 Medical Areas of Interest: Sports, Joints, Spine
 Interests/Hobbies: Skiing, basketball, fantasy football, soccer, golf, squash, beach days and trying new restaurants with my wife.
 Why did you choose Brown?  The training is unmatched. Brown produces well rounded surgeons with strong operating experience and the opportunity to get more quality rep than just about any other resident in the country thanks to our sixth year. I also admired the strong research support, leadership, and sense of camaraderie among the residents.
 What do you like about Providence/Rhode Island?  Providence provides the perfect balance between City and Suburbs. It has all the cultural aspects that a big city offers like vibrant restaurants and bars. Yet it has a more suburban feel with close proximity to the outdoors. It is the perfect place to launch from for any New England Day trip.
What are your goals for the future? To become a well-rounded orthopedic surgeon and a leader in whichever subspecialty I pursue.