Department of Orthopaedics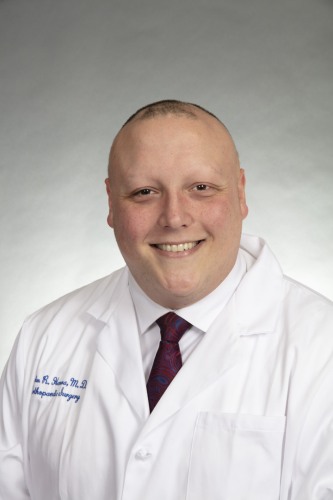 Hometown: San Diego, CA
Undergraduate: Dartmouth College
Medical School: Tufts University
Medical Areas of Interest: Orthopaedic Trauma, implant design, minimally invasive orthopaedic surgery
Interests/Hobbies: Fishing, hiking, cooking, anything sports, Seinfeld
Why did you choose Brown? An excellent foundation in orthopaedic trauma and the unique 6th year trauma fellowship drew me to the program.  The breadth of research opportunities coupled with the variety of operative experiences  at Brown create a well-rounded orthopaedic surgeon. The camaraderie among residents and faculty make the education/work environment fun and enjoyable.
What do you like about Providence/Rhode Island? The warmer months in Rhode Island are unmatched with countless outdoor activity options at your disposal. The winter months bring close proximity to the mountains of Vermont and New Hampshire. The food and drink scene in Rhode Island  is constantly fresh and entertaining with a constant influx of new up and coming culinary talent from nearby Johnson & Wales University. Overall great place to live.
What are your goals for the future? After completing a sub-specialty fellowship, I aim to contribute to research areas of interest in my selected field, while continuing to manage orthopaedic trauma patients in a community setting.  I would like an opportunity to teach both in the operating room and in the classroom.