Department of Orthopaedics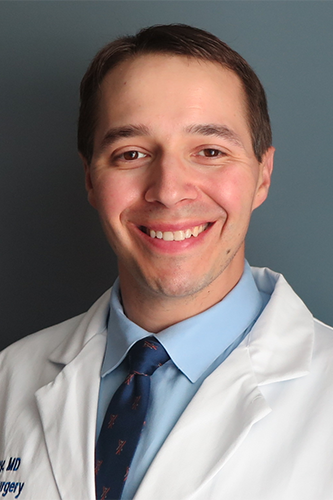 G. Max Gosey, MD
2022-2023 Foot and Ankle Fellow
Gregory "Max" Gosey was born and raised in the swamps of south Louisiana and grew up water skiing on the bayous in his youth. As the son of a generalist orthopedic surgeon, Max began very early on pursuing a career in medicine. Through frequent family trips out West often for CME meetings, he fell in love with the mountains and made the switch in high school to snow skiing, receiving a scholarship to University of Colorado Boulder where he was elected to Phi Beta Kappa Honor Society in connection with his undergraduate degree in Integrative Physiology (between day trips to Loveland Ski Area!). He returned temporarily to Louisiana for medical school at LSU Health Sciences Center and then a general surgery internship at Ochsner Clinic in New Orleans where he met his devoted and beloved wife. Leading into residency, Max gained an appreciation for the rigors of scholarly activity in orthopedics, pursuing a two-year post-graduate research fellowship in hip preservation surgery in San Diego in parallel with a Clinical Research Master's program at UCSD, ultimately with publication of his thesis project on hypermobility in the Journal of Bone and Joint Surgery. 
Following his orthopedic surgery training at the University of Arizona in Tucson, Max completed a fellowship in shoulder & elbow reconstruction at Kerlan Jobe in Los Angeles in summer of 2022. Hit hard in the senior years of his residency and his shoulder fellowship by the impact of CoVID, he opted for an additional year of surgical training and is honored to join Brown University and University Orthopedics in his current foot & ankle surgery fellowship.  He is thrilled at the quality of mentorship, diversity of clinical experience, and thoughtful approach to graduated surgical autonomy in the program. 
During free time in the summer and between ski days with his wife Caitlin in the winter, Max enjoys hiking and being outside, more recently exploring the wooded hills, beaches, and restaurants of New England with his awesome toddler son Will, who he can't wait to get up on skis this year. In the future, Max plans to focus his career primarily on foot & ankle surgery with some additional specialized skills in shoulder reconstruction, ideally in the Rocky Mountain West or on the West Coast.